UPDATED: The final draw for this weekend is now available. Under 9 and Under 14/2 have changed venues with kick off times remaining the same. All other matches for the Saturday sides remain the same for both venue and kick off time except for Under 13 with kick off time now 10:10am. The Sunday draw has been completely revamped with Ruse Park now hosting the A/Grade Silver game against Chester Hill.
Our club will be hosting an extra 5 matches which has ensured the Junior League matches go ahead for the weekend. Help will be required on both Saturday and Sunday. Please speak to Ali (President) or George (Secretary) if you can provide any assistance or just turn up to the ground on either day.
The following teams still need players:
Under 8 (b 2013-14)
Under 10/2 (b 2011-12)
Under 13 Gold (b 2008)
Under 14/2 (b 2007-08)
Under 18 Gold (b 2003-04)
Under 16 Girls (b 2005-07)
If you know someone who wants to join any of these sides don't hesitate to contact a member of the Bulls Executive or the coaches of those sides.
Spots are always open for players in Under 5 and Under 6 age groups starting from 4 years of age. Under 6 players must be born in 2015.
This year we have U5, U6, U7, U8, U10, U12, U13, Super 15, both U18 and A/Grade-1 all in division 1 competitions.
Thanks to our major sponsors Bankstown RSL Club for their wonderful support and to all our amazing 2021 Sponsors for getting involved with the Bankstown Bulls this year.
Click on venue name for map directions. Printable Draw available on the link below.
Bankstown Bulls PDF Draw 8-9 May 2021
SATURDAY 8 MAY 2021
RUSE PARK (84 Stacey St Sth & Gartmore Ave, Bankstown)
9:00am Under 5/W (Shadi) vs Greenacre 4*8m – Field 1
9:45am Under 6/1 (Ray) vs St Christopher's B – Field 1
9:45am Under 7 (Khalil) vs St George – Field 3
9:00am Under 8/2 (Daniel) vs Berala 4*8m – Field 2
9:45am Under 8/1 (Daniel) vs St Johns 4*8m – Field 2
10:30am Under 10/2 (Chris) vs St Christopher's 2*20m
11:20am Under 10/1 (Rabih) vs St George 2*20m
12:10pm Under 12/1 (Rabih) vs St Christopher's 2*20m
1:00pm Super 15 (George) vs All Saints 2*25m
2:00pm Under 16 Girls (Daniel) vs Campbelltown Warriors 2*25m
3:05pm Under 14 Gold St George vs East Campbelltown 2*25m
SMITH PARK (2 Lehn Rd, East Hills)
9:00am Under 5/B (Lawrence) vs East Hills 4*8m – Field 1
10:30am Under 9 (David.H) vs Revesby 4*8m – Field 2
2:00pm Under 14/2 (Lai) vs Revesby 2*25m – Field 2
KILLARA RESERVE (29 Lawson St, Panania)
9:45am Under 6/2 (Isaac) vs Milperra 4*8m – Field 1
TERRY LAMB COMPLEX (Banool St & Miller Rd, Chester Hill)
12:05pm Under 11 (David.T) vs Chester Hill 2*20m
LIVERPOOL CATHOLIC CLUB SPORTING COMPLEX (Joadja Rd, Prestons)
10:10am Under 13 (Zahi) vs Liverpool 2*25m
BRADBURY OVAL (The Pkway, Bradbury)
10:00am Under 14/1 (Chady) vs Campbelltown Collegians 2*25m
SUNDAY 9 MAY 2021
RUSE PARK (84 Stacey St Sth & Gartmore Ave, Bankstown)
10:00am Under 20 South West Sharks vs Liverpool 2*30m
11:30am A/Grade-2 vs Chester Hill (Max) 2*35m
1:10pm Open Bronze South West Sharks vs East Campbelltown 2*30m
2:35pm Open Silver Greystanes vs Milperra 2*35m
BEGNELL OVAL (75 Madeline St, Belfield)
1:30pm Under 18/2 (Huss/Stan) vs Berala 2*30m
3:00pm A/Grade-1 (Jason) vs St Johns 2*35m
WON ON FORFEIT:
Under 18/1 (Huss/Stan) vs Milperra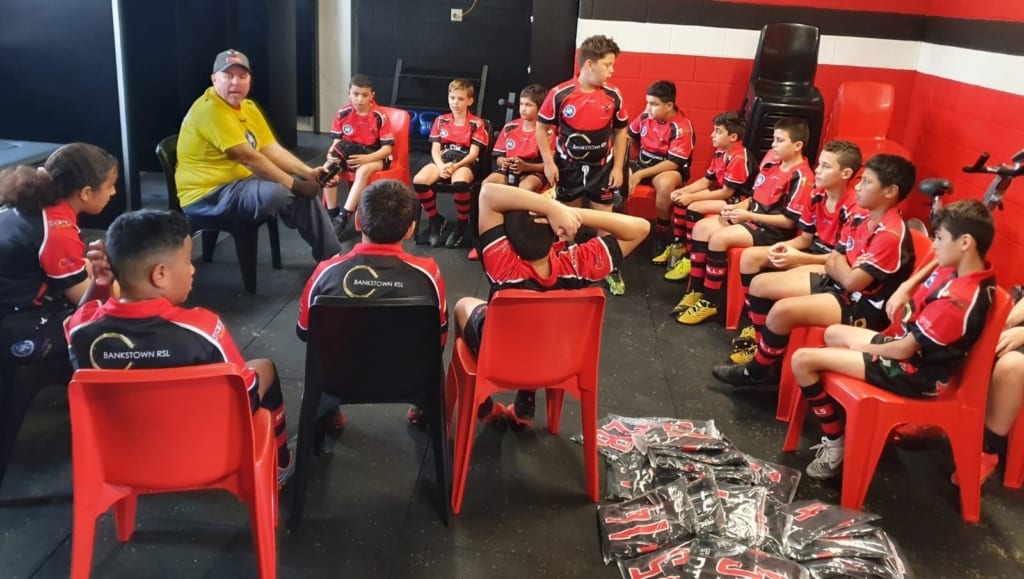 Bankstown Bulls Junior Rugby League Football Club Inc.